Using textural 3D tiles is a creative way to design a focal point or accent feature. Let's explore some available design options using ANAYA 3D tile. The basic shape is a concave trapezoid. One attractive pattern using ANAYA is creating an internal hexagon surrounded by an outer hexagon to create your dimensional surface.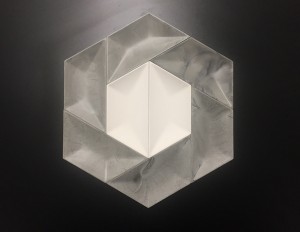 To create this pattern begin with two ANAYA tiles using the longest length face to face.This creates a small hexagon. Next put the longest side of ANAYA on top of the hexagon at 12 o'clock staggered at 50%. Then follow the smaller hexagon with the longest part of ANAYA also staggered at 50% until all the ANAYA tiles connect. Repeat next pattern to connect to first pattern.
The trapezoid design pattern mentioned above draws the eye and creates a dynamic and functional focal point in your home or business. With a 3D wall design our visual and tactile senses are activated as we reach out to touch the sculptural wall art. Color customization is another component that enhances excitement to the 3D tiles. With the options of patterns and colors ANAYA 3D tiles can truly become your personal expression and creativity.
The ANAYA 3D tile is made from either Gypsum, High Performance Grey Concrete (HPC) or Ultra High Performance White Concrete (UHPC) depending on installation location. Gypsum is mainly for indoor and non water related areas. Both HPC and UHPC can be installed indoor and/or outdoor and can be sealed for water resistance. Installation instructions are available with the tiles.