Take a step back to reimagine what 3D wall tiles can become.
Joanna Baker from Inspirations Interior Design Inc. recently did just that when she utilized a single 32X32 ZEN 3D tile as artwork for her ASID Orange County Chapter 1 Room 12 Ways vignette. The 3D wall tile art was displayed next to a beautiful serene waterfall and it was a perfect compliment to the ZEN tile.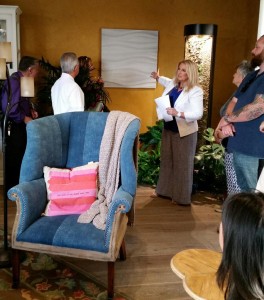 The vignette was showcased to 50 other interior designers and guests on June 23, 2016 at the Stonemill Design Center in Costa Mesa, CA.
3D wall tiles offers versatility when it comes to making a statement whether it is used as an entire focal wall or an individual art piece such as Joanna did for her vignette. Her selection of using one tile was simple and elegant. Either way it's a statement piece that will enhance the beauty of your home or business.  Thank you Joanna for seeing the possibilities of Textural Designs!