When you want impact and beauty for an accent wall, 3D textural tiles are a great choice to achieve this. Using 3D wall tiles will transform the wall space into a special art feature as well as being decorative. Hotels are known for using this technique to accentuate a focal feature wall in the lobby or anywhere they want to impress and draw your attention. Another added benefit to using 3D wall tiles is a monolithic appearance where the seams or edges of the tile become invisible. Since most natural stone slabs are constricted by size, this added feature of 3D wall tiles can accommodate larger areas which adds to the dramatic effect desired in focal walls.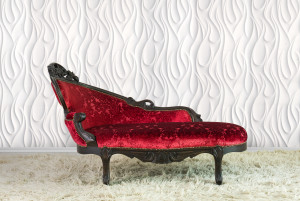 While it's agreed that using 3D tiles can be dramatic, perhaps too much for one's home, installing 3D tiles in a smaller area can still create a desirable attractive effect. It's perfect to use 3D tiles in kitchen backsplash or as a feature wall behind a bathroom vanity. It will not overwhelm the entire space yet still be able to give a WOW factor that one may be seeking.
What about durability and cleaning factor? All natural stones should be sealed for protection. Even grout lines for porcelain/ceramic tiles need to be sealed. 3D tiles should be treated the same way to maintain its beauty. Especially in areas like kitchen where food stains grease is a factor.
With the proliferation of design products available to homeowners, 3D textural wall tiles will become the preferred design element that can express a home's style and sophistication.