We love the outdoors and strive to incorporate the nature look into our homes. There are homes that have large windows/doors that open up to the view while others plant trees or greenery indoors. Some homes will have murals or wallpaper depicting their favorite landscape. No matter how it's done we are obsessed with the outdoors.
3D wall tiles are a great option since it's both visual and tactile. NATURE 3D wall tile makes a great a focal point since NATURE resembles tree branching upward in an elegant graceful manner. Each panel (available in sizes 16X16 or 32X32) can be installed to create a monolithic pattern on the accent wall.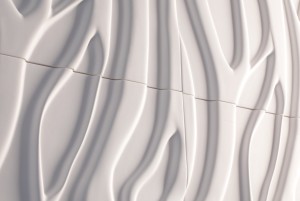 Furthermore color customization is available (integrated factory colors, metallics or DIY painting) which gives one the ability to personalize the designs. NATURE 3D tile is available in gypsum and concrete it can be utilized indoor and outdoors.
Depending on the wall area NATURE 3D wall panel can create a whimsical and dramatic forest like appearance. Imagine combining other decorative elements such as animal decals or integrated  lighting to enhance the 3D element of the NATURE tile. The aesthetics of NATURE 3D wall tile blends well as a modern or transitional design element.